The Barracks were named in honor of Lt. General Lesley McNair *.
Overview
Location
The compound was located on Görzallee in Lichterfelde a subdistrict of the Steglitz district.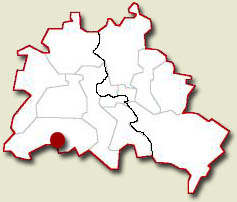 Map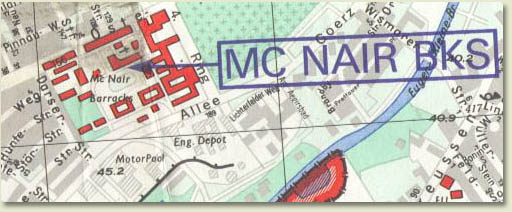 Pre Occupation Forces History
Until the end of world war two the compound was an industrial plant of Telefunken. It was a research and production facility where new radio system were developed for the german military.
The compund consisted of 66 buildings.
Occupation Forces History
The barracks housed the infantry contingent of the Berlin garrison as well as other smaller units like the artillery battery of the Berlin Brigade. Besides the troop quarters the compound also contained various facilities like a movie theatre, a club and even a small ammunition depot.
The Berlin Brigade motor pool was located across the street from the barracks.
Post Occupation Forces History
As of 2005 the former Mc Nair barracks undergoes major changes. Construction work are still going on converting parts of the compound into to loft aparatments.
The part of the former barracks facing Görzallee was turned into a small shopping centre.
Internal Links
---
* Lt. General Lesley McNair was killed by accidental Allied bombing in France. He was also the highest ranking American killed in WW2.